Regular Mass Schedule
| | |
| --- | --- |
| Saturday: 5:00 p.m. | Sunday: 8:30 a.m. |
| Tuesday: 5:30pm | Wednesday: 5:30pm |
| Thursday: 8:30am | Friday: 8:30am |
| Saturday: 8:30am | Confession: 30 min. before each Mass |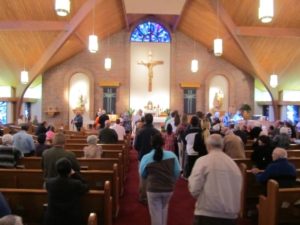 Welcome to the Harrison Catholic community online! Serving Catholics in Harrison and Yellville Arkansas – and everywhere in-between – Mary Mother of God Parish, and its mission church of St. Andrew's, have grown over the past 30 years to become vibrant communities filled with faith, fellowship, and charity.
Join us in celebration of the Lord's Mass, in Adoration of the Holy Eucharist, in prayer for the sick, in service to fellow Catholics, and in stewardship to the communities of Boone, Newton, and Marion Counties of Northwest Arkansas.
Mary Mother of God Parish offers education opportunities for children, the youth, and adults. For men over 18, we encourage you to learn more about the Knights of Columbus in Harrison, Arkansas. And for women of the parish, we encourage you to become involved with the Catholic Christian Women (CCW). Both organizations provide great opportunities for charity, volunteerism and fellowship.
The Mary Mother of God Parish community offers great educational opportunities for children, the youth, adults, and non-Catholics who wish to become Catholic and/or learn more about our faith.
For those who are not Catholic, those who wish to receive full-Sacramental membership into the Catholic Church as adults, those who wish to have their baby baptized, and those who wish to marry in the Catholic Church, please contact Fr. Jim Fanrak directly, at (870) 743-9889.
For those who wish to register with the parish, have general questions about the parish, or would like to take part in some of the many opportunities our community has to offer, please contact the Mary Mother of God Parish office.
Our website offers detailed information about the history of both Mary Mother of God and St. Andrew Parishes, about various ministries the faithful can be a part of, about opportunities to further faith in Jesus Christ through education and charity, organizations vital to the parish and the community at-large, and resources for prayer and further learning.